Letter Writing Campaign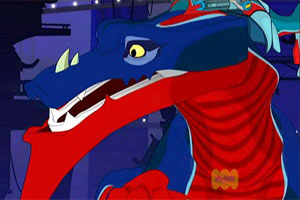 Dragon Booster is ending? Don't let it happen!!
It's time we organized a letter writing campaign to convince the networks to order more episodes and keep Dragon Booster on the air! I hope you've already signed the petition for more episodes. If not, please take a moment to do so now. To have an even greater impact, we can also mail in letters to the networks to let them how much we want to see this show continue. So far, none of the networks have ordered more episodes which means this series will end after episode 39 unless we act now.
This is the time to write in because season 3 concluded here in the US and Canada, and it will soon finish its run in Australia. So this is the time when the network heads will be looking for an audience reaction to the show. If they see there is an uproar of enthusiasm among fans, then that's the kind of thing that will influence their decision to order more episodes. So now is the time to let them know we're here!
Listed below are four of the major networks that air Dragon Booster. Dragon Booster of course airs on many different stations around the world, but it's important that we convince these four to continue the series. To make sure they know we're here, I've printed out the petition and I've sent it in to each of the networks listed below. You can help this along greatly by sending in your own letter as well. 1000 letters coming in from fans around world means a lot more than one letter from me, so please take a moment to send in a letter to help keep the show on the air. This web site is visited by thousands of fans each month. If everyone sent in a letter, it would have a real impact on their decision. You can make a difference with just the cost of a stamp.
It takes very little time to write a short letter to let the networks know you want to see the show go on. In your letter, you can make the following points:
First say you're a big fan of the show and that you're writing to let them know they should order more episodes to keep the series on the air.
Mention the online signature gathering campaign that's gathered over 7000 signatures from fans around the world. Tell them they can view the latest signatures at http://signatures.dragon-city.org and that more people sign everyday.
Mention one or two things you really like about the show.
Make sure your letter is polite. Please make sure your letter does not sound rude, demanding or insulting.
Send your letter to network that serves your area. You can help out even further by sending copies to all the networks listed below as I have done. A network like the CBC would be impressed if they got letters from fans around the world urging them to keep the show on the air. For the cost of a few airmail stamps you can have a real impact. If the network that serves your area is not listed, please take a moment to look up the address. I'll add it to the list if you send it to me at
Toon Disney / Jetix / United States
Disney/ABC Cable Networks Group
"Dragon Booster" TV Show Viewer Comments
3800 W. Alameda Ave
Burbank, CA 91505
USA
CBC / Canada

Audience Relations
CBC
"Dragon Booster" TV Show Viewer Comments
P.O. Box 500 Station A
Toronto, ON M5W 1E6
Canada

ABC / Australia

ABC Ultimo Centre
"Dragon Booster" TV Show Viewer Comments
700 Harris Street
Ultimo 2007
GPO Box 9994
Sydney NSW 2001
Australia

Sky Television / United Kingdom
Sky Television
Grant Way
Isleworth
Middlesex
TW7 5QD
England
Where ever you live, I would really like to encourage to write in to your local broadcaster. And even if you don't live in North America, I would really like to encourage you to send a letter to Toon Disney and the CBC anyway. The amount of money a network has to pay for a show is related to size of the network's potential audience, and since the North American market is probably the largest single audience for Dragon Booster, these two networks are paying the lion's share of the cost to produce the show. So it's really important to convince them to continue the show if we want to keep seeing it. I think that's well worth the cost of two airmail stamps to send them letters.
Additional Networks
Another way we can help keep the show going is to let other networks that could potentially order episodes know that the fans want more. If Toon Disney declines to order more episodes, the most likely two networks to pick up the show and continue it would be Nickelodeon and Cartoon Network. In particular, Nickelodeon is already airing Dragon Booster is some Spanish speaking countries, so it shouldn't be too difficult to convince them to pick up the show in English speaking and other countries if Toon Disney/Jetix doesn't order more episodes. So please write a short letter to these two networks as well. Let them know the fans want more episodes and that they should seriously consider picking up the show and airing it on their networks. Point them to the petition at http://signatures.dragon-city.org so they can see the show comes with a built-in fan base. Tell them how well Dragon Booster will fit with the other shows they air and point out that Dragon Booster has won a Gemini award for best animated series. And remember, Nickelodeon and Cartoon Network broadcast in many countries around the world, so please write in to them know you want to see the show continue even if you don't live in the United States.
Nickelodeon
Viewer Feedback
1515 Broadway
New York, N.Y. 10036
USA
Cartoon Network
Viewer Feedback
1050 Techwood Drive
Atlanta, GA 30318
USA
And if you live in Canada, you can also write the following networks:
Teletoon
BCE Place
181 Bay Street
P.O. Box 787
Toronto, Ontario
Canada
The Zone/Vortex/ZAPX
c/o YTV
PO Box 369, Station C
Toronto, ON
M6J 3N1
Thank you for your help!